Prime Unbox Review 2024
Prime Unbox is a rebranded, well-known VGO Case Opening site - SkinFans. In the beginning it offered VGO Cases only but later on added VIRL items as well. We've created this short review to let you know more about this awesome site.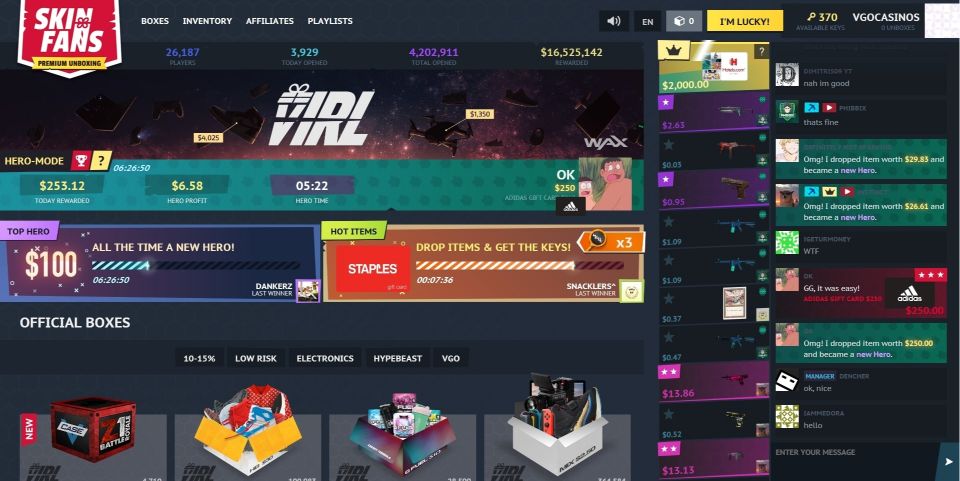 Prime Unbox Code and bonuses
Unfortunately at the time of writing this review Prime Unbox has not been offering any code or any other bonuses. We hope that it will change in the future but as for now the only way to get some extra funds is by joining their Affiliate program (this is what we did) and sharing the affiliate link with your friends.
Games
PrimeUnbox doesn't offer any additional vgo gambling games expect for VGO Case Opening (or unboxing if you like), but it has some cool additional features that make it a great place for opening VGO Cases.
First one is Hero Mode. It works like this: Each user who unboxed an item worth $15 or more becomes a Hero and will receive $0.07 from each key spent by users on the site. There can by only one hero at a time. The next user who becomes a Hero replaces the old one. This is a great way to earn extra money while doing case opening plus lots of fun as too
The other one is called Hot Items: Every 15 minutes you have the opportunity to drop an item for which you can get bonus keys. The first user who drops an item from the specified box becomes the winner and receives a prize. In the event that the indicated time has ended and nobody got dropped item, then no one gets the keys for the current item. After the timer reset, the previous item is replaced with a new one. The total value of bonus keys is constantly changing depending on the item
Payment methods
There are actually no payment methods available on the site. The way it works with official vgo case opening websites, you just add funds to your OPSkins account or buy keys on OPSkins. and you trade them to the site's bot in order to be able to open the case. Since the update you don't really have to buy keys and can use OPSkins balance for opening cases. After winning a skin, it appears automatically in your inventory. As for OPSkins you can add funds to your account with various methods including:
Paypal
Skrill
G2A Pay
Bitcoin
SEPA transfer
There are no withdrawals from the site, as items get directly transferred to your OPSkins account. Over there you can sell them on the market and withdraw Real Money or transfer elsewhere.
Design
Prime Unbox has a very colorful design that might be confusing in the beginning but you get used to it very fast and start enjoying all the colors. Navigation is pretty easy and everybody should be able to find everything they need.
Support
There is no support on the site, which seems to be quite common for new VGO Case Opening sites. For more information try contacting them via social media.
Pros and Cons
Pros:
Official VGO Cases
Clean User Interface
Popular (many people on chat)
VIRL unboxing
Nice Animations
Cool extra features
Cons:
No customer support
No additional game modes